Zašto psi jedu zemlju? Kakva je probava pasa?
Zašto psi jedu zemlju? Kakva je probava pasa? Psi su poznati po svojoj sklonosti da povremeno jedu zemlju, a razlozi za to mogu varirati. Koji su razlozi za jedenje zemlje kod pasa, evo nekoliko mogućih objašnjenja za ovu čestu pseću naviku:
Probava i prehrana pasa i jedenje zemlje: Psi njuškom i ustima istražuju svijeta oko sebe, pa često istražuju različite mirise i okuse, uključujući i zemlju. Ponekad jedu zemlju kako bi unijeli neke mineralne tvari ili mikroorganizme koji se u njoj nalaze. To može biti prirodna potreba za nadopunjavanjem određenih tvari u organizmu.
Poboljšanje probave: Neki psi mogu jesti zemlju kako bi potaknuli probavu ili smanjili nelagodu u trbuhu. To može biti slično kao kad ljudi ponekad koriste glinu kao sredstvo za poboljšanje probave.
Nedostatak nutrijenata: Ako pas redovito jede zemlju ili druge nejestive materijale, to može ukazivati na nedostatak određenih nutrijenata u prehrani. Pas može instinktivno tražiti nadomjestke za ono što mu nedostaje.
Stres ili tjeskoba: Psi mogu jesti zemlju kao način suočavanja sa stresom ili tjeskobom. Slično kao što ljudi ponekad grizu nokte ili žvaču olovku kada su nervozni, psi mogu imati slične navike koje im pomažu da se smire.
Istraživanje okoline: Pas može jednostavno istraživati okolinu, a to uključuje i istraživanje okusa i tekstura koje pronalazi u zemlji. Mogući razlozi za jedenje zemlje kod pasa su mirisni trag krtica, miševa ili drugih životinja koje obitavaju u zemlji. Ponekad to mogu biti ostaci od roštilja ili mjesta gdje se prolijevaju ulja ili druge masnoće
Važno je napomenuti da iako psi jedu zemlju povremeno i to može biti normalno ponašanje, često jedenje zemlje, jedenje velikih količina zemlje ili drugih nejestivih materijala može biti znak ozbiljnijeg problema. To mogu biti prehrambeni nedostaci, probavni problemi ili medicinske komplikacije.
Kako Zeolit može pomoći probavi kod pasa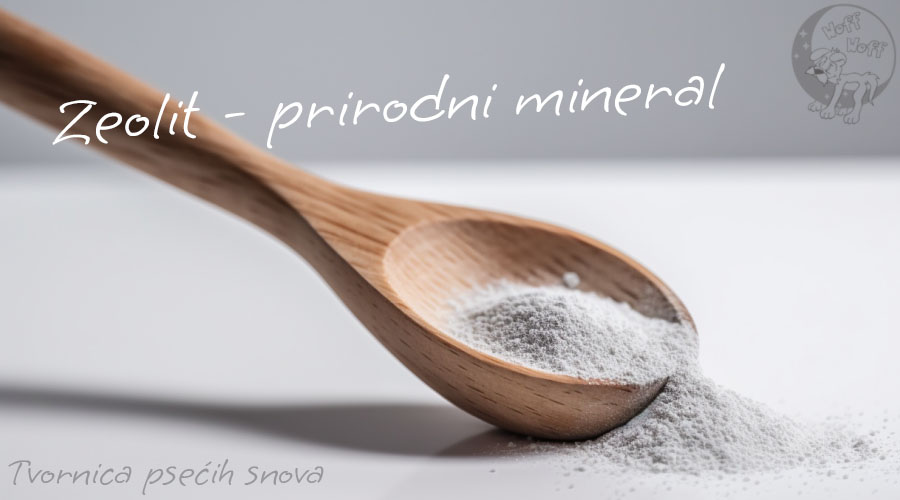 Zeolit je prirodni mineral sa iznimnim svojstvima adsorpcije i detoksifikacije. Kod pasa, zeolit može pružiti brojne koristi za probavni sustav. Zeolit je dobar za poboljšanje probave.
Detoksikacija crijeva: Zeolit ima sposobnost vezivanja i uklanjanja toksina, teških metala i drugih neželjenih tvari iz crijeva. Ovo može pomoći smanjenju opterećenja toksinima u tijelu pasa i podržati zdravu funkciju crijeva.
Poboljšana probava: Zeolit može djelovati kao probiotik, podržavajući rast korisnih bakterija u crijevima pasa. Ovo može pomoći uravnoteženju crijevne mikroflore i poboljšati proces probave.
Smanjenje gastritisa i nadutosti: Zeolit može apsorbirati višak kiselina u želucu, što može pomoći smanjenju gastritisa i nadutosti kod pasa.
Pomoć kod proljeva i zatvora: Zeolit može pomoći apsorbiranjem viška vode u crijevima, što može biti korisno kod proljeva. S druge strane, također može pomoći omekšavanju stolice i olakšati zatvor.
Podrška imunološkom sustavu: Zdrav probavni sustav ključan je za snažan imunološki sustav. Zeolit može pomoći u održavanju zdrave crijevne funkcije, što posredno podržava imunološki sustav pasa.
Smanjenje plinova: Zeolit može apsorbirati plinove u crijevima, što može pomoći smanjenju nadutosti i neugodnih plinova.
Zdravlje jetre: Zeolit može pomoći u uklanjanju toksina iz tijela, što može smanjiti opterećenje jetre i podržati njezino zdravlje.
Pri odabiru zeolita za svog psa, važno je odabrati visokokvalitetan proizvod koji je laboratorijski provjeren kao što je ovaj Zeolit.
Zeolit se obično daje pomiješan s hranom, a doziranje ovisi o veličini psa. Važno je pratiti reakciju psa na zeolit i obratiti pažnju na eventualne promjene u ponašanju ili probavnom sustavu.
Još malo korisnih savjeta…
Ozljede i rane
Zeolit može imati blagotvoran učinak na rane i krvarenja kod pasa. S obzirom na svoje svojstvo apsorpcije vlage i toksina te svoju antibakterijsku prirodu, zeolit može biti koristan dodatak u procesu zacjeljivanja rana i zaustavljanja manjih krvarenja.
Kod površinskih rana, poput ogrebotina ili manjih posjekotina, zeolit u obliku praha može se koristiti kako bi se površina rane osušila te spriječilo razmnožavanje bakterija. Zeolit može pomoći u ublažavanju upale i potaknuti brže zacjeljivanje.
U slučajevima manjih krvarenja, zeolit može djelovati kao blagi antiseptik te pomoći u zaustavljanju krvarenja. Njegova apsorpcijska sposobnost može pomoći u bržem zgrušavanju krvi te stvaranju zaštitnog sloja na površini rane.
Hot spot kod pasa i Zeolit
Hot spot kod pasa je iritantna kožna lezija koja uzrokuje crvenilo, svrab i vlaženje kože. Zeolit, prirodni mineral s poroznom strukturom, može pružiti olakšanje kod hot spota i podržati proces zacjeljivanja. Zeolit ima sposobnost apsorpcije viška vlage i toksina. Primjena zeolita u obliku praha može pomoći u sušenju vlažnih dijelova kože kod hot spota. Također, zeolit može djelovati kao blagi antiseptik, pomažući u suzbijanju bakterijskih infekcija koje se mogu razviti na iritiranoj koži.
Za iskustva i savjete pridruži se ovoj grupi: