This is a specially designed carrier for veterinary clinics, pet shelters and transporters (pet taxi services).
The design allows easy handling in small spaces, such as X-ray (X-ray) rooms, passenger cars, stairwells and elevators.
The carrier is very light and specially designed to enable easy and safe transfer of medium and large dogs.
When carrying, the ergonomic shape eases the burden on the lower back, which is very important for people who need to frequently use the stretcher to transfer patients.
Eight receptions allow receptions from all four sides. The cradles can be used to thread the seat belts through to ensure stability during transport or driving.
Grips are very useful when handling the stretcher in x-ray rooms, stairwells, cars, and other cramped or irregular spaces.
Likewise, two independent belts can be used as shoulder straps for easier carrying on longer distances.
All materials on the carrier are made of stainless and long-lasting materials. Expected use is +20 years.
If necessary, the carrier cover can be ordered separately. Also, the cover can be easily separated from the structure and washed as needed.
The cover material is waterproof and waterproof.
This allows easy maintenance by wiping the upholstery with a disinfectant after or before use.
Due to the black color of the upholstery, blood stains that may occur during the transport of injured dogs are not visible.
Two independent harnesses can be used to secure the dog and can be easily adjusted to fit different dog sizes.
They can also be used as shoulder straps for easier carrying and better control when carrying.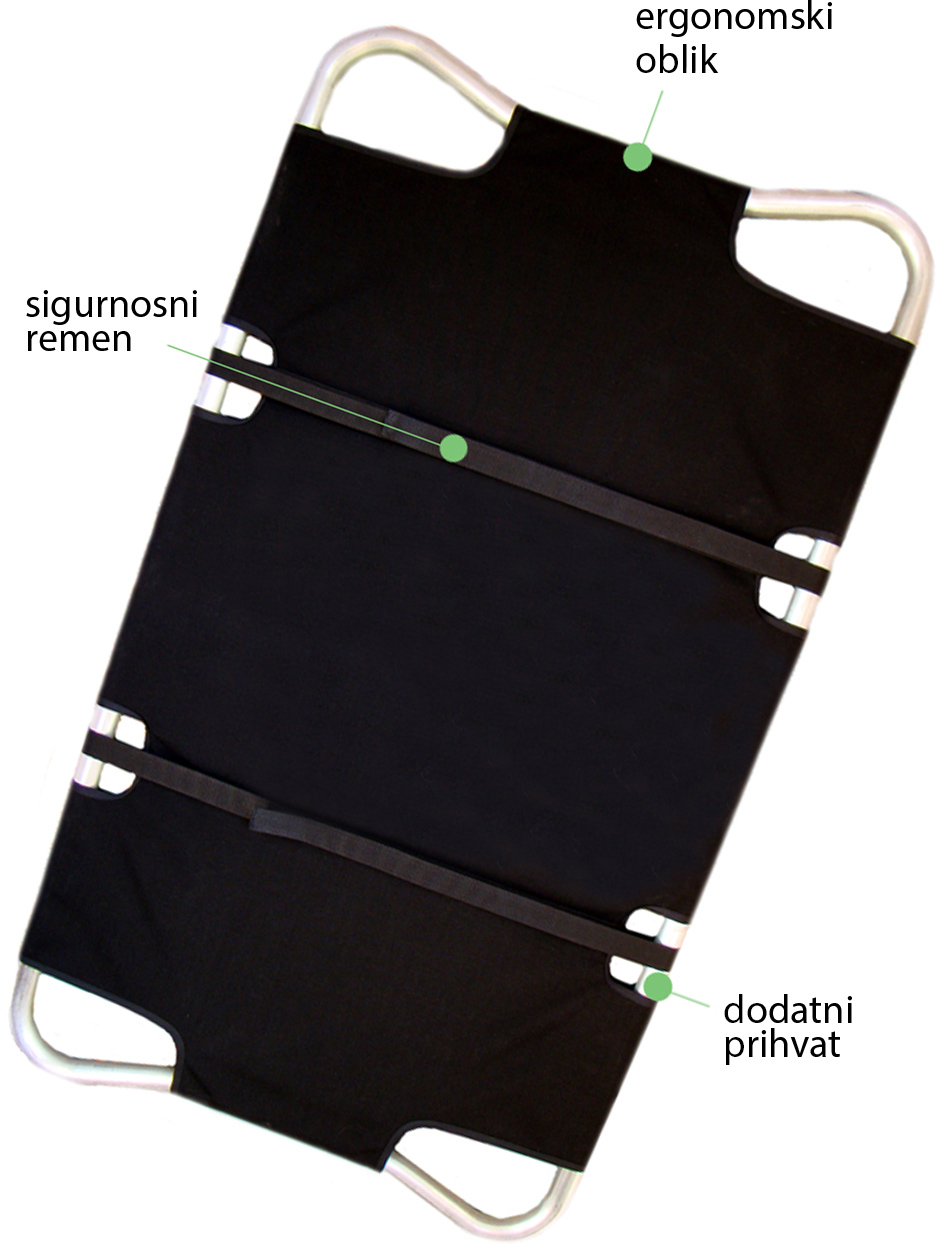 Who uses the carrier for transporting large dogs?
Professional use:
Croatia, Zagreb – Happy Vet veterinary specialist clinic
Croatia, Čakovec – ZEU "Friends of animals and nature" no-kill shelter
Croatia, Osijek – dr. Doolitle Vet. infirmary
Croatia, Vrbovec – Veterinary clinic Pot, dr.med.vet. Tomislav Planinić

Croatia, Zagreb – DODO-VET doo
Croatia, Zaprešić – VETERINARY STATION doo
USA, Red Bud – Richland Pet Cremation & Memorials
USA, North Carolina – South Point Pet Hospital, Dr. James Dobies

Canada, Ottawa – Animal hospital, Dr. Chris Clark
Spain, Málaga – ADANA

Malaysia, Sabah - organization for saving animals
Mexico, Campeche – Veterinary clinic
Personal use:
USA: Alabama, New Hampshire, San Diego
Australia: Queensland
Croatia
Buy it here or send an inquiry to: woff@woff-woff.com
[fblike url="https://www.facebook.com/woffwoffcom/" style="standard" showfaces="false" width="450″ verb="like" font="arial"] [fbshare type="button " width="100″] [pinterest count="horizontal"]
Sava
Sava